Nevis
Discover Queen City Nevis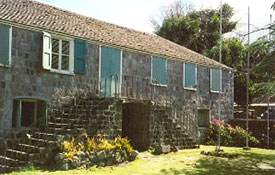 A tour of Nevis is not to be missed whilst visiting this beautiful island. Your tour guide will introduce you to the Bath Springs and historical Bath Hotel. The thermal springs which were believed to have many medicinal properties were used by many dignitaries and to date is still used. The hotel was the first resort in the Caribbean and was built to accommodate the English Lords and Ladies during their stay. Hence the name "The Queen of the Caribees."
The next stop is at the Nelson's Museum which is dedicated to the memory of Admiral Horatio Nelson, a great British Military leader who married to the native Fanny Nisbet. Your guide will point out to you the Hermitage Inn which is reputed to be one of the oldest surviving houses in the Caribbean and is now one of the restored Inn/hotel in Nevis. Other hotels are Montpelier Plantation Inn and Golden Rock and Old Manor. All were once owned by rich plantation owners who had the luxury of owning many acres of sugar lands. Today one can return to any of these exquisite Inns to experience, charm, luxury and the serenity that Nevis offers.
The Botanical Gardens is an added attraction for those who wish to visit. A few of the other historical monuments which associates with Nevis's history are, Fig Tree church, The Jewish Cemetery and New River Mill. Nevis' history is rich and is one of the few islands where one can visit without the hassle.
Entrance fee to the Museums ($5) / Botanical Gardens ($10) are not included.
Horseback Riding (Beach and Trail)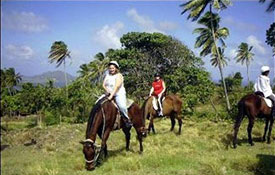 Daily: 10:00 a.m. & 3:00 p.m. (2 hrs)
This tour begins with a walk past Ft. Ashby, the first Fort which was built in 1650. This path then leads to one of the many secluded beaches on Nevis. 
Along the way, we pass Nelson's Spring, a beautiful lagoon where clipper ships once filled up with fresh drinking water.
We continue through Calhoun Estate where we see Brahma cattle and in the distance, St. Thomas' Anglican Church, the oldest active Anglican Church in the Caribbean (1643).
From here an easterly direction is taken with a slow climb up the mountain slope to Paradise Estate where ruins of a sugar mill can be seen.
The ride continues through to "Cotton Ground" where the production of cotton was done in the past.
The people of this village are warm and friendly. The children especially know each horse by name and will question you as to which one you have, so don't forget your horses' name!! 
Our trip takes you back to the beach for picture taking and to observe the local fishermen bringing in their catch of the day. 
The ride ends with a relaxing walk through a coconut grove. 
Upon returning back to the stables enjoy a cool tropical drink while watching the horses take bath!
Another interesting way in exploring this panoramic island!
Bicycle Tours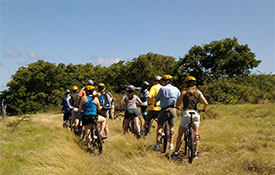 Daily: 9:00 a.m. & 2:00 p.m. (2 - 3 hrs)
Tour 1: Island Discovery
A tour of Nevis's old sugar cane plantations trails and roads, visiting the village of Newcastles, Camps and Fountain, with many rest and photo stops. Take a step back in time when we visit the Nisbet plantation and walk you through the places where admiral Horation Nelson may have courted the lovely Fanny Nibet and Alexander Hamilton possibly played as a child. The tour stops for a refreshing drink break at one of the island local snack bar. This tor is suitable for any rider with an interest in history. Please note all tour are tailored to suit group levels of fitness and experience. Don't forget your sunscreen! MINIMUM NUMBER OF 4 REQUIRED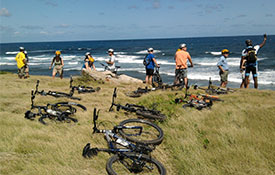 Tour 2: History and Heritage Tour 
This tour is suitable for the visitor to Nevis that really wants to steep themselves into the rich and exciting past of this beautiful island. DIscover downtown Charlestown and its many historical vuildings and churches, visit the Nelson an Hamilton museums, the birth place of one of the us founing fathers Alexander Hamilton. See the Jewish cemetery and synagogue, the bath hotel and springs. There are many opportunities for photos and to ask questions from our well informed guide. Enjoy this leisurely paced tour before stopping at a local snack bar for a beverage. Sunscreen recommended. MINIMUM NUMBER OF 4 PERSON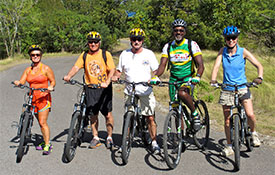 Tour 3: Round The Island Ride 
Biking is a recreational sport and this tour is catered for the recreational riderwith some off road experience. The tour gives you a view of the plains of Newcastle then climbing to Garners Estate and descending through Spring Hill. Eighty percent of the tour is off road with a mixture of single and double track with views of historical buildings and ruins. For experienced road bikers or Triathletes, join us for around Nevis taking on the challenge of our signature anaconda & the killer bee. Nevis's beautiful scenery and stunning views make this ride for any visiting athlete or sport enthusiast. Challenge yourself! Experience picturesque Nevis! Sunscreen recommended MINIMUM OF 4 PERSONS REQUIRED
Snorkel Cruise
Daily: 10:00 a.m. & 2:00 p.m. (3 hrs)
Enjoy a leisurely cruise from Nevis towards the panoramic landscape of St. Kitts. 
This cruise takes you to the South East Peninsula where the boat will anchor.
Enjoy snorkeling in calm waters off Shitten's Bay and see a variety of fascinating sea creatures and fish. 
Explore the underwater paradise made by nature. Snacks, Open Bar and Snorkel equipment are available. 
Music to keep you dancing while enjoying a scenic sail back to Nevis.
Devil's Copper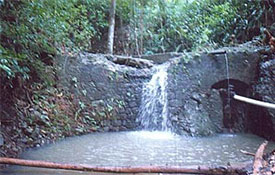 Devil's Copper & New River Springs 
Daily: 8:30 a.m. & 2:00 p.m. (2 1/2 hrs)
On this hike is an area known as Devils Copper, this consists of New River Spring and Three Waterfalls. This area is believed to be haunted by spirits, an area where the people of Nevis don't venture.This is a very interesting excursion to one of the volcanic vents and from here falls the water falls. Back in the day this rich source supplied water to the area known as New River. A variety of multicoloured birds and of course our green vervet monkeys provide for excellent pictures This hike is moderately challenging.
TROPICAL TOURS
P.O. Box 393
Cayon Street, Basseterre
St. Kitts, West Indies
Tel: (869) 465-4039
(869) 465-4167
(869) 465-5338
Fax: (869) 465-6400
Email: kisco@sisterisles.kn
Cell: 1-869-662-5338
US Tel: 954-338-7829
Hours of Operation:
Mon – Fri: 8am – 4:30pm
Sat – 8am – 12N
Sun – Closed
Emergency Call: 1-869-662-5338