Rain Forest Tours
Volcano Crater Tour
Leaves Daily: 8:00a.m - 3:30 p.m
A visit to a dormant volcano must surely be one of the most spectacular trips to make in St. Kitts. You will be picked up at 8:00 am and will have approximately aone-hour drive by four wheel drive to the base of Mount Liamuiga. Youwill begin a 2 1/2 hours vigorous hike up the mountain and through the rainforest observing giant forest trees, beautiful flowers and swinging vines. This includes rest stops, where you will have a chance to learn about the different plants and animal life on the island. At the top on a clear day you will be able to see neighbouring islands and explore the surrounding area. The walk back down to the trail base, where the vehicle is parked is normally faster than the ascent. No doubt this is spurred on by the waiting cargo of ice cold drinks! Your tour guide will set up a delightful picnic lunch. This tour is an exciting adventure. You must wear running shoes, long pants, be in good physical condition (no injuries, heart conditions etc) and be prepared to get dirty. A day trip you will not forget! Degree of difficulty 1 – 5) 5
Horseback Rainforest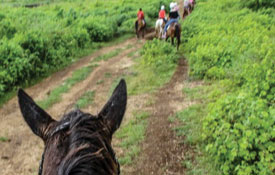 Daily 8:45am & 1:30pm (3 hrs)
Ride through trails of canefields leading into the lush forest and experience the beauty of our flora and fauna. As the guide lead you into narrow trails and over gentle slopes amongst thick forestry bursting with vegetation in their natural habitat. Listen to chattering of monkeys, chirping of birds whilst perched on your horse. From a distance experience the magnificent view of villages and the Caribbean Ocean on the horizon. At some point the guide will ask you to dismount whilst you take a leisurely walk with your horse to examine the lush plant life in moist fertile soil covered with leaves and microorganism.
The tour ends with by riding leisurely back through the same path to one of our local neighbourhood bars for cold drinks.
Rainforest Explorer
Rainforest Explorer (Drive)
DAILY : 8:30AM & 1:30PM (3HRS)
The drive rainforest tour is catered to individuals who may have difficulty in walking.. The experience of this tour is one which takes you 1500ft above the Wingfield mountain National Park. This section of a more beautiful area of the rainforest will certainly appeal to nature lovers where the guide will introduce you to different plants and birds and how such wildlife becomes important to our forestry development.
Whilst driving amongst this lush area one will enter into our seasonal Mango Orchard. On this drive old ruins from an 18th century plantation at Wingfield Estate, will be seen as well as the only visible aqueduct in the Lesser Antilles. This tour is certainly very informative and will allow persons to appreciate nature and history at the same time. After the tour local drinks and pastries will be served..
Rainforest Adventure Tour (Hike)
Daily 8:30am & 1:30 pm (3 1/2 hrs)
This is the shorter trip through a particularly beautiful section of the rainforest. It will appeal best to guests who, while wishing to experience the beauty of St. Kitts rainforest might find the longer hike to arduous. The tour guide will introduce you to some of our medicinal plants/trees such as Trumpets Bush, Black Sage & Sour Sop just to name a few. Whilst trekking through this exotic part of the forest some of our plants and trees have grown in height and thickness with lush buttress roots e.g. Sicus, Saman, and Locus Trees.
The guide at the same time will enlighten you by not only introducing you but by giving an educational point of view of why we preserve such lush flora. Our Fauna consists of the green vervet monkeys, various birds, butterflies etc. In our rainy season Wingfield River becomes the sound in the background of birds chirping and the chattering of monkeys.
The rainforest is a place of mystery, seasonal fruit trees (mango, breadnut, breadfruit, guava, coconut etc), fertile soil, lush foliage, canopies formed by thick lush trees with vines whilst the rays of the sun seeps through all of this beauty to give life. Certainly a tour not to be missed by nature enthusiasts!
Enjoy pastries and local drinks after the tour.
TROPICAL TOURS
P.O. Box 393
Cayon Street, Basseterre
St. Kitts, West Indies
Tel: (869) 465-4039
(869) 465-4167
(869) 465-5338
Fax: (869) 465-6400
Email: kisco@sisterisles.kn
Cell: 1-869-662-5338
US Tel: 954-338-7829
Hours of Operation:
Mon – Fri: 8am – 4:30pm
Sat – 8am – 12N
Sun – Closed
Emergency Call: 1-869-662-5338