Cruise Ship Tours
Power Boat Snorkel Adventure
Cruise along the South East Peninsula coast of St. Kitts. See a variety of birds, goats and monkeys perched on the hills and shores enjoying mother natures beauty.
We will stop for snorkeling in calm water along a scenic coastal bay.
Here, you will have a chance to witness the beauty of our underwater world of beautiful coral, lobsters, sting rays, parrot fish, reefs etc.
Snorkel equipment is available on board as well as SNACKS and an OPEN BAR.
Tour Includes:
Tour Guide
Cruise along Southeast Peninsular
Open bar
Snacks
Snorkel equipment
Round trip transportation
 Duration: 3 hrs
Deep Sea Fishing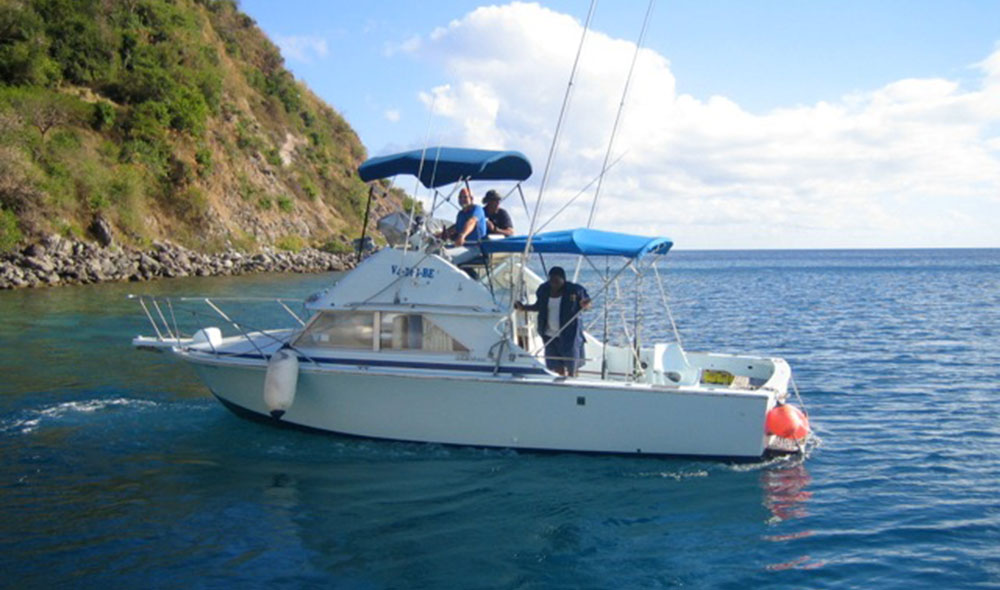 'Get the catch of the day.'
Whether it be a mackerel, snapper, king-fish, dolphin, wahoo or barracuda.The boat will depart from Port Zante and sail towards the southeast end of the island where you will have an exhilarating experience and hopefully you'll be able to "hang on to your catch" Enjoy drinks from our Open Bar whilst we sail in this populated fishing grounds.
Tour Includes:
Tour Guide
Light refreshments
Fishing Equipment
Fishing
Transportation or Guided walk to boat
Return of vessel to dock
St. Kitts Sea Adventure - Kayak & Snorkel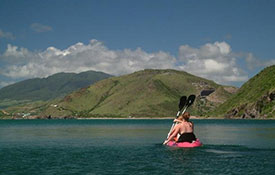 Come join us for a great adventure. Your guide will lead you along the coast in tandem kayaks over shallow waters teaming with fish. Your tour will lead you past the famous Pelican Rocks.
Sit back and watch these dive bombers come in for a feed of small sprat minnows. The tour guide will also show you some steep rugged coastline as your 45 minute coastal paddle finishes off where you started. Here we will enjoy some local fruit punch before wading back into the water for some exciting snorkeling just off a sand beach. See Blue Parrots, Yellow Tangs, Damsel and many types of wrasses.
It is possible a Hawksbill turtle may pop by. Light refreshment awaits you thereafter!
Tour Includes:
Drive to secluded beach
Observe Pelicans around the cove, snorkel, kayak
Beach time
Kayak & snorkel equipment
Qualified Instructor on hand
Snacks, rum or fruit punch
Return transportation to ship
 Duration: 3 hrs
Half Day Rainforest Tour
This is the shorter trip through a particularly beautiful section of the rain forest. This will appeal best to guests who, while wishing to experience the beauty of St. Kitts rain forest might find the longer hike to arduous.
The tour guide will introduce you to some of our medicinal plants. The walk to the rain forest is along a path and takes about one hour.
Your tour guide will set up sandwiches with soft drinks after the tour.
 Tour Includes:
Tour Guide
Light refreshments
Drive to Rainforest
Walk through rainforest
Return transportation to ship
Duration: 3.5 hrs
Pelican Snorkel Adventure
Snorkel along the Caribbean coast at Pelican Cove and view the picturesque coastline of Pelicans perched on rocks and steep cliffs.
The tour guide will then introduce you to our spectacular under water world where a rainbow of colour exists of a variety of fish and other sea creatures.
Our unspoilt reefs allows you to snorkel in their natural habitat.
Tour Includes:
Drive to secluded beach
Observe Pelicans around the cove & Snorkel tour
Mask and Fins
Qualified Instructor on hand
Beach time
Return transportation to ship
Duration: 3 hrs
TROPICAL TOURS
P.O. Box 393
Cayon Street, Basseterre
St. Kitts, West Indies
Tel: (869) 465-4039
(869) 465-4167
(869) 465-5338
Fax: (869) 465-6400
Email: kisco@sisterisles.kn
Cell: 1-869-662-5338
US Tel: 954-338-7829
Hours of Operation:
Mon – Fri: 8am – 4:30pm
Sat – 8am – 12N
Sun – Closed
Emergency Call: 1-869-662-5338