Leaves Daily: 10 am. - 1:30 pm 3 1/2 hrs
1:30 pm - 5:00 pm 3 1/2 hrs
Your visit to St. Kitts will not be completed until you have taken a tour of the island. The tour operates on a daily basis. Most people prefer to take it early in the week, so as to gain some first-hand knowledge and history of our beautiful island. The tour begins at 10 am, with a trip through Basseterre ( the city) with a scenic coastal road out to Romney Manor, the home of the Caribelle Batik at Old Road. Then on up to Brimstone Hill (a beautiful fortress which portrays the history of the Spanish, French, English, American, Dutch, Amerindians, Caribs and Arawaks).
A US$10.00 contribution towards the restoration of Brimstone Hill would be greatly appreciated. You will continue your tour around the island passing by Dieppe Bay where the Atlantic Ocean and the Caribbean Sea meet at the scenic Black Rocks. Don't forget to bring along your cameras and wear comfortable walking shoes. Questions are always welcome.
Panorama Tour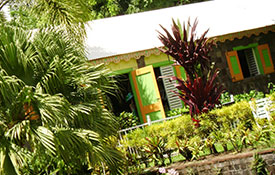 Mon - Fri 8:30am – 12:30pm (4 hrs)
The way to see St. Kitts with a difference. You'll visit the Botanical gardens of the Romney Manor, the edge of the rainforest, the National Park of Wingfield and Lambert Estate ruins.
A scenic drive towards the majestic hills of the South East Peninsula allows you upon arrival to take a short stroll on the beach along the edge of the calm waters of the Caribbean Sea. Drinks are served prior to end of tour.
Nevis (Queen City) Island Tour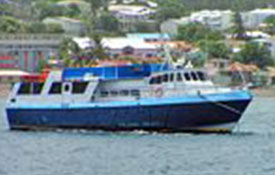 Enjoy the charm of "Queen City" – our sister island of Nevis. Your tour begins with a 45 minute ferry transfer and upon arrival you will be met by your tour guide. Places such as the Old Bath House with its famous thermalbath spring will be introduced to you. You will visit to the Horatio NelsonMuseum or the Lord Horatio Nelson's Museum (Alexander Hamilton's birth place), St. John's Anglican Church ( the church of Lord Nelson and Fanny Nisbet's marriage. The tour guide will then enlighten you of the charming plantation Inns/hotels which belonged to the Aristocrats in the 1700's. These are now comfortable and luxurious Inns/hotels which are now enjoyed by Nevisians and visitors alike. A visit to the Botanical Gardens is not to be missed. An entrance fee of US$10 per person is required. This is an enjoyable way to spend the day whilst visiting Nevis, "Oueen City",