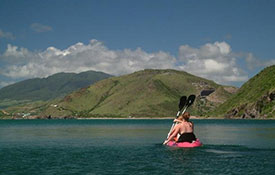 Come join us for a great adventure. Your guide will lead you along the coast in tandem kayaks over shallow waters teaming with fish. Your tour will lead you past the famous Pelican Rocks.
Sit back and watch these dive bombers come in for a feed of small sprat minnows. The tour guide will also show you some steep rugged coastline as your 45 minute coastal paddle finishes off where you started. Here we will enjoy some local fruit punch before wading back into the water for some exciting snorkeling just off a sand beach. See Blue Parrots, Yellow Tangs, Damsel and many types of wrasses.
It is possible a Hawksbill turtle may pop by. Light refreshment awaits you thereafter!
Tour Includes:
Drive to secluded beach
Observe Pelicans around the cove, snorkel, kayak
Beach time
Kayak & snorkel equipment
Qualified Instructor on hand
Snacks, rum or fruit punch
Return transportation to ship
 Duration: 3 hrs