Come and experience some of our popular tours:
 St. Kitts Island Tour
 Catamaran Party Cruise
 Nevis (Queen City) Island Tour
 Rainforest Adventure
St. Kitts Island Tour
Leaves Daily: 10 am. - 1:30 pm 3 1/2 hrs
1:30 pm - 5:00 pm 3 1/2 hrs
Your visit to St. Kitts will not be completed until you have taken a tour of the island. The tour operates on a daily basis. Most people prefer to take it early in the week, so as to gain some first-hand knowledge and history of our beautiful island. The tour begins at 10 am, with a trip through Basseterre ( the city) with a scenic coastal road out to Romney Manor, the home of the Caribelle Batik at Old Road. Then on up to Brimstone Hill (a beautiful fortress which portrays the history of the Spanish, French, English, American, Dutch, Amerindians, Caribs and Arawaks).
A US$10.00 contribution towards the restoration of Brimstone Hill would be greatly appreciated. You will continue your tour around the island passing by Dieppe Bay where the Atlantic Ocean and the Caribbean Sea meet at the scenic Black Rocks. Don't forget to bring along your cameras and wear comfortable walking shoes. Questions are always welcome.
Catamaran Party Cruise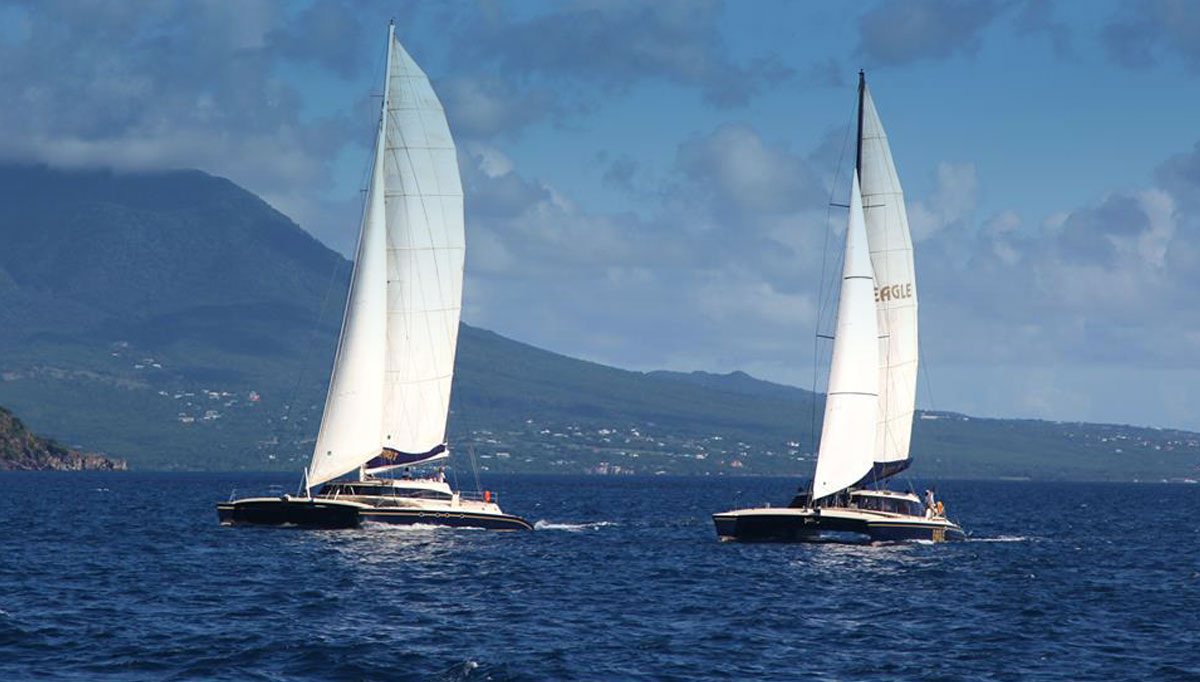 (The Highlight of your Vacation!)
Daily: 9:00 am - 4:30 pm
(minimum bookings required)
A tasty Barbecue lunch on a sandy beach is included.
* Music and dancing that keeps you merry!
Sail to the sister island NEVIS aboard the giant 52' Catamaran. A beautiful day on the ocean, cruising to Nevis with a stop at a calm bay for snorkeling (free equipment on board).
A FULL BAR is open all day on board and you'll stop at Pinneys' Beach on Nevis where a barbecue lunch will be prepared. We'll spend a couple of hours on the beach, then make our way along the coast back to St. Kitts.
* Make sure you bring plenty of sunscreen, towels and a beach cover-up and don't forget your camera.
Nevis (Queen City) Island Tour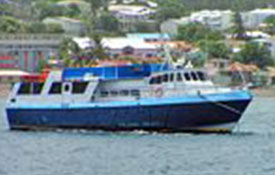 Enjoy the charm of "Queen City" – our sister island of Nevis. Your tour begins with a 45 minute ferry transfer and upon arrival you will be met by your tour guide. Places such as the Old Bath House with its famous thermal bath spring will be introduced to you. You will visit to the Horatio Nelson Museum or the Lord Horatio Nelson's Museum (Alexander Hamilton's birth place), St. John's Anglican Church ( the church of Lord Nelson and Fanny Nisbet's marriage. The tour guide will then enlighten you of the charming plantation Inns/hotels which belonged to the Aristocrats in the 1700's. These are now comfortable and luxurious Inns/hotels which are now enjoyed by Nevisians and visitors alike. A visit to the Botanical Gardens is not to be missed. An entrance fee of US$10 per person is required. This is an enjoyable way to spend the day whilst visiting Nevis, "Queen City."
Rainforest Adventure Tour (Hike)
Daily 8:30am & 1:30 pm (3 1/2 hrs)
This is the shorter trip through a particularly beautiful section of the rainforest. It will appeal best to guests who, while wishing to experience the beauty of St. Kitts rainforest might find the longer hike to arduous. The tour guide will introduce you to some of our medicinal plants/trees such as Trumpets Bush, Black Sage & Sour Sop just to name a few. Whilst trekking through this exotic part of the forest some of our plants and trees have grown in height and thickness with lush buttress roots e.g. Sicus, Saman, and Locus Trees.
The guide at the same time will enlighten you by not only introducing you but by giving an educational point of view of why we preserve such lush flora. Our Fauna consists of the green vervet monkeys, various birds, butterflies etc. In our rainy season Wingfield River becomes the sound in the background of birds chirping and the chattering of monkeys.
The rainforest is a place of mystery, seasonal fruit trees (mango, breadnut, breadfruit, guava, coconut etc), fertile soil, lush foliage, canopies formed by thick lush trees with vines whilst the rays of the sun seeps through all of this beauty to give life. Certainly a tour not to be missed by nature enthusiasts!
Enjoy pastries and local drinks after the tour.