Nevis Peak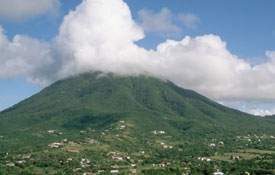 Nevis Peak 
Hike to the Top 
Leaves Daily : 7:00 a.m - 12:00 p.m
If you are seeking to get a complete workout naturally, then a hike to Nevis Peak is a must. Your hotel pick up will begin at 7:00 a.m. and the drive to Nevis Peak is approximately 30 - 45minutes. You will then be introduced to the highest prominent feature of the island "Nevis Peak". It is covered by 40% of the rainforest and has fascinating plants and animals along the elevated route which are natural to this area.
Views the fields of desolation locally know as "Maroon". Along the trail tied ropes, mud slides gives the adventure seeker a hint of things to come as we venture up the slopes. 
The characteristics of the rainforest changes remarkably from one area on the mountain to the next. 
The hike to the top is strenuous and challenging, but incredibly rich and rewarding. Gorgeous view on a clear day!
TROPICAL TOURS
P.O. Box 393
Cayon Street, Basseterre
St. Kitts, West Indies
Tel: (869) 465-4039
(869) 465-4167
(869) 465-5338
Fax: (869) 465-6400
Email: kisco@sisterisles.kn
Cell: 1-869-662-5338
US Tel: 954-338-7829
Hours of Operation:
Mon – Fri: 8am – 4:30pm
Sat – 8am – 12N
Sun – Closed
Emergency Call: 1-869-662-5338